Student Journalists Learn Lessons Covering Chancellor's Resignation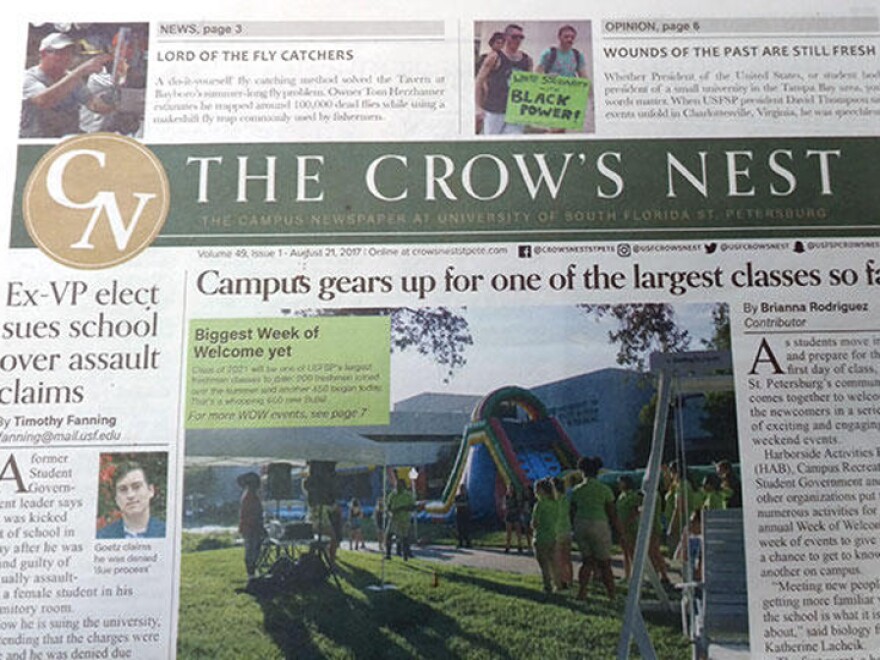 For journalism students, the best lessons don't always happen in the classroom.
That's the case for students at USF St. Petersburg, where the sudden departure of their campus' Regional Chancellor became the biggest stories of their young careers.
Oh, and it happened in the aftermath of a hurricane.
Michael Moore Jr. is editor-in-chief of the campus student newspaper, The Crow's Nest.
When he got word that USF St. Pete Regional Chancellor Sophia Wisniewska wasn't in charge anymore, he was sitting in a Bradenton hospital room with his sick grandmother. He and much of his staff had evacuated from campus for Hurricane Irma.
"My first reaction was, I mean I just kind of threw the phone. I'm like, 'You've got to be kidding me,'" Moore said. "This is the biggest news I'm probably ever going to get during my tenure as editor-in-chief, and this is an unmanageable situation right now."
However, Managing Editor Tim Fanning was still in town and was able to quickly confirm that Wisniewska, who had led the campus for four years, no longer did. He got a story online.
Moore, who is a senior journalism major, wasn't thinking about what the administration or anyone else would say – the Crow's Nest needed to get the story out.
"But at the end of the day, we're a newspaper and we've got to do our job – we've got to report news," he said.
For the next few days, paper staffers started investigating, tapping on skills they've learned in class – the goal, trying to find out facts that explained what had happened.
"Because at the time, nobody knew anything," Fanning said. "You could call any faculty member and they would tell you that they were all left in the dark about this and they had no idea and that's all they could say."
Documents the student journalists obtained showed Wisniewska and USF System President Judy Genshaft disagreed about the chancellor's handling of the evacuation of student resident halls ahead of Irma.
In addition, Wisniewska failed to tell Genshaft that she had left St. Petersburg.
The documents also showed that an agreement was eventually reached and Wisniewska voluntarily resigned.
The Crow's Nest was one of the few media outlets that she spoke to after her resignation.
"She expressed some regrets about some things that happened, but overall was consistent in that she was shocked that the president thought she'd done anything terribly wrong," said contributing writer Nancy McCann, who did that interview.
In the weeks since the announcement, the student journalists have continued covering the story, taking a particular interest in the reaction on campus.
"Senior faculty themselves were deeply disturbed by being left out of the conversation," Fanning said. "I think that people were upset particularly because they felt that she was the most popular campus leader that they've had."
But, he added, many of the students they've spoken to don't seem as concerned.
"I think a lot of them, believe it or not, were like 'Who is a campus regional chancellor?'" Fanning said with a slight laugh. "'Who is this? Is that one lady going around campus who's smiling all the time?'"
Moore said the paper has received both praise and criticism for its recent work, but he added that they can't worry about that when they're trying to cover the news.
"Our job is to be as accurate as possible and if we do that, then whatever pushback we could possibly receive is going to be unwarranted," he said. "So we just have to know that we're doing ethical, responsible journalism, that's all we can set out to do."
People are like, 'I know you're saving the good stuff for the paper, I can't wait to see what it is.'
The Crow's Nest staff feels that they've learned a valuable lesson about how digital journalism – updates on the paper's website and social media platforms – can help a weekly newspaper like theirs run more like a daily operation.
"It's shaping the way we do stories now – we're getting in front of stories instead of letting stories sort of get behind us," Moore said, adding that the physical version of the newspaper has become somewhat surprisingly more popular as a result.
"When it hits the newsstands, people are like, 'I've seen the coverage you've done this week, now I know you're saving the good stuff for the paper, I can't wait to see what it is,'" he said.
Fanning agreed, adding that the importance of getting this story right has helped him grow as a journalist.
"Looking back from today to maybe three, four weeks ago, I'm just amazed at not only the confidence in myself but the confidence that I think a lot of faculty and students have in the paper," he said.
And for Moore, his best lesson learned is a simple one.
"Persistence, hard work, it pays off. Student journalists do matter, you can make a difference," he said.
We'll speak with interim Regional Chancellor Martin Tadlock about the changes at USF St. Petersburg on next week's University Beat.