USF Students 'Sit Out' in Peaceful Protest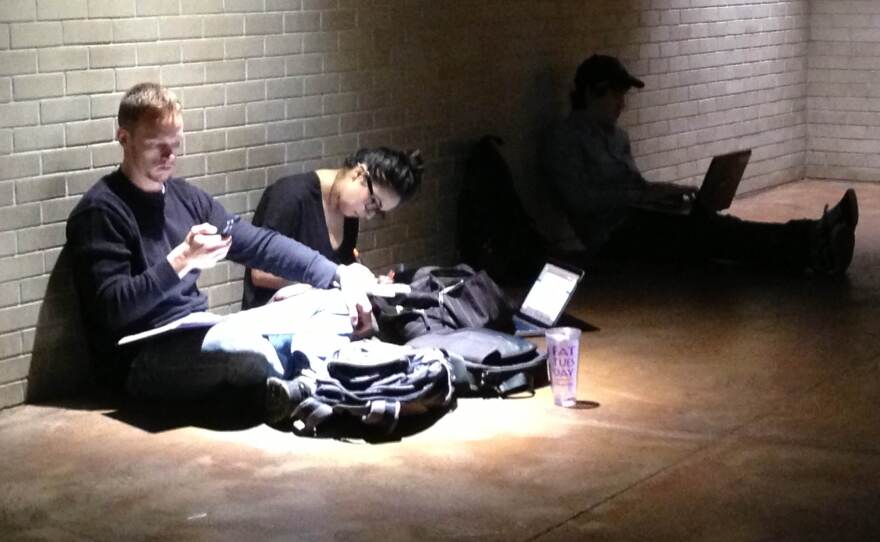 The automated message that blares through the library speakers continuously, 15 minutes to closing, starts going off Thursday night.
"The library is now closed. Please make your way to the first floor main entrance exit. Thank you."
Students starts to gather their things and head for the exit.
This is the first semester since 2010 that University of South Florida students hear this in the middle of the week. The library used to be open 24 hours five days a week. Now it closes at midnight.
About 40 students brought out blankets and bottled water to sit-out by the library entrance to protest against the shortened hours. Sophomore political science and international studies major Asia Smith was one of them.
"We're sitting outside of the library just to show them that this is how many people would be inside the facility right now if it were open 24/5 as it rightfully should be," she said.
Junior and geology major Javin Hatcherian sat on the picnic table with his textbook in front of him. He said some of his friends are parents and need the atmosphere the library provides.
"Little Johnny doesn't realize daddy has a Calculus test coming up and he can't play with him. Mentally, for a lot of people it's more difficult to study at the home," he said.
There were some students who filed out of the library and kept walking to their cars. Senior biology major Trong Nguien said he rarely studies past midnight at the library.
When asked how he felt about shortened hours he said, "I don't care, I really -- I don't care."
Four officers were on the scene at the time the protest started.
On Friday, USF sophomore Amir Msawel said he is disappointed.
"Times are tough. Economic times are tough. I understand maybe they can't afford the power or they can't afford to pay people to be there 24 hours a day," he said. "But at the expense of our learning or our potential, I don't think it's really something you should be doing at the expense of the students."
USF senior Inga Zakradze is also down.
"To be honest, I am a little disappointed," she says. "I was away on a study-abroad trip this past semester and I was boasting to everybody about our library being open. And I come back and I'm having kind of a difficult semester with a lot of research involved. I was hoping that after work I could go to the library and study a bit but now it's not going to be possible anymore."
Zakradze adds that she will now have to study and research at home.
The student body president, university provost and dean of libraries met Thursday afternoon, and they reached an agreement to extend library hours during midterms and finals week. It has not been determined yet how much later the library would be open those weeks.