Florida Matters Preview: Pinellas Re-Entry Program Hopes for Calm After the Storm
Hurricane evacuation route off Gulf Blvd in Indian Rocks Beach.
Mark Schreiner / WUSF 89.7 News
The four lanes of the Indian Rocks Causeway Bridge would be the main escape route, and way back in, for thousands of residents, visitors and business owners.
Mark Schreiner / WUSF 89.7 News
Bakery "Sweet IRB" and the "Island Shop" surf shop are on Gulf Blvd. in Indian Rocks Beach, right in the potential path of a hurricane.
Mark Schreiner / WUSF 89.7 News
Business owners normally have enough to worry about with day-to-day concerns, but that worry is compounded when your business is located just a few hundred feet from the Gulf of Mexico, with the possibility one day of being the target of an incoming hurricane.
Larry Garrison owns the "Island Shop," a surf shop located in the small Pinellas County town of Indian Rocks Beach, one of the county's barrier islands. He's had the shop for 8 years, not long enough to have had to evacuate for a storm, even though he knows what he'll do if one comes.
"Biggest concerns would be the front windows are pretty vulnerable to breaking, we do board them up if there's a storm coming, but even that may not help prevent that, and also flooding being that we're right on the beach," Garrison said.
Next door, in "Sweet IRB," owner Melissa Dotson stands among glass display cases full of cakes and pies. She and her husband bought the store two and a half years ago and opened the bakery last September. Hurricanes? They're not her biggest concern.
" I came from the Kansas City area, so I was used to tornados and things like that, so I'm more afraid of them than I am of the hurricanes," Garrison said. "But we wanted on the beach, that was the reason we built here was because we wanted on the beach, so it never factored into our decision-making about the storms, never."
Both store owners live nearby - Garrison is a few minutes over the bridge in Largo, Dotson is just five minutes north off of Gulf Boulevard. They know that if a hurricane comes, they'd likely have to leave their homes and workplaces behind and head further inland.
But when the storm passes, both would be among the first allowed back in, thanks to a new program unveiled earlier this year by Pinellas County.
Under the Barrier Island Re-Entry Program, people who live or work in Indian Rocks Beach and eleven other Gulfside communities, stretching from Tierra Verde north to Clearwater, sign up for an emergency access permit to hang on their car mirror.
If there's a mandatory evacuation - and not just for a hurricane, but any event that forces a large-scale departure, like a fuel spill or chemical leak - passholders will be allowed back in much quicker than those without a pass.
"The old way was is that if you had a driver's license or you had something that identified you, somebody would have to stop, you've got to read it, you've got to verify it and make sure that they belong there, because we don't people who don't belong in these communities," Pinellas County Sheriff Bob Gualtieri explained at a recent press conference.
The system is designed to keep looters and burglars out, while also trying to ease re-entry traffic congestion. Residents get two hang-tag passes, while business owners can get more, depending on the number of essential personnel they have. When they try to get through any of the nine re-entry points to the barrier islands, passholders will be allowed into what's basically an "express lane."
"Everything's bar-coded on the hang-tags and the deputies would have scanners and people would be able to very easily move through each of these checkpoints," Gualtieri said.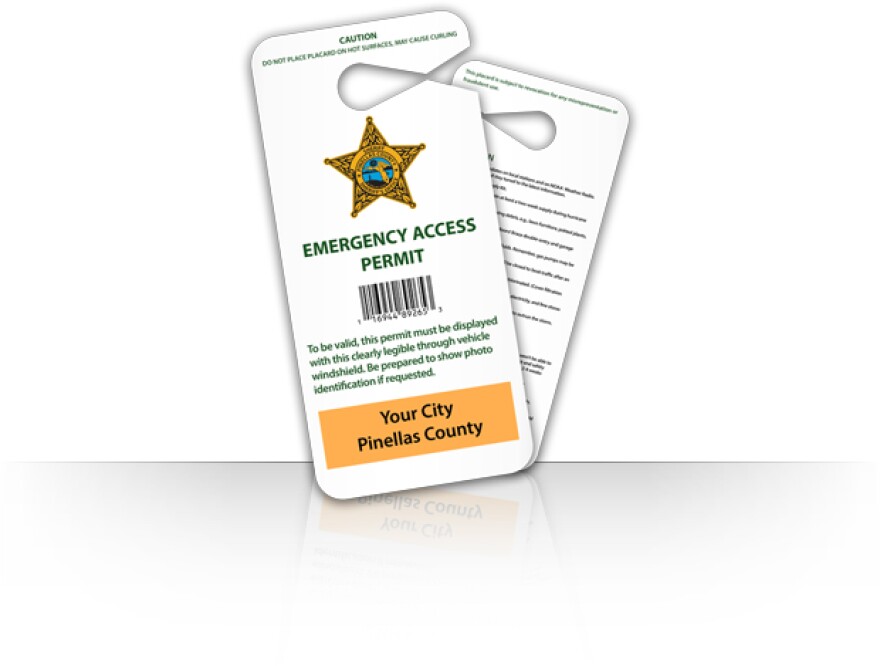 The county developed the software program to read and log re-entries, and bought the hang-tags and scanners for about $41,000.
But the response hasn't been what emergency planners hoped for. Gualtieri estimates that there are about 88-thousand people who would need permits - but as of the end of May, only 17-thousand people have received them.
"And that gives me a lot of concern because what I know is going to happen is that if the event comes and we do have to evacuate and we have to get people back in, is they're going to complain, and they're going to be complaining because they can't get in or because they're going to be significantly delayed," Gualtieri said. "You're going to have one lane where people have the [permits], and they're going to be breezing through because the barcode scanner is there, they're going to get scanned in and they're going to go and everybody else is going to get backlogged and it's going to be a mess."
Dotson, who picked up passes using her home address, said she's concerned what might happen if the scanners don't work properly, and wondered how many test runs the county has put the system through. She also has talked to her neighbors and fellow business owners, and says she's heard multiple reasons for the low response.
"One of the comments that I heard was that we have to get ours at City Hall, they're only open Monday through Friday, a lot of folks work in Tampa Monday through Friday, and you can't mail them and you have to have some proof of identification to get them, and I also think that a lot of people are still not aware that they need them," she said.
That's despite what Gualtieri says has been a concerted effort by the county to publicize the program through mailings and community events - everything short of going door-to-door. He adds that when a storm is on its way, that's not going to be the time to try to get a pass.
"If they wait to that period of time, they're probably going to be out of luck. You know, it's just the way it is and that's what people do, but you shouldn't wait," he said.
And avoiding the wait - after the storm - is exactly why people like Larry Garrison have already gotten their passes.
"I hope they come in handy, I'll be waiting at the bridge before it opens to come back, I'm sure, so hopefully I'll be one of the first ones back on the island," Garrison said.
Residents and business owners are being urged to register with their local community for a re-entry permit. You can find out how by clicking here.
Pinellas County has also developed a Storm Surge Protector App where residents or business owners can plug in any current county address and see various storm surge levels might do to their property.