Outside Cash Pouring Into St. Petersburg Mayor's Race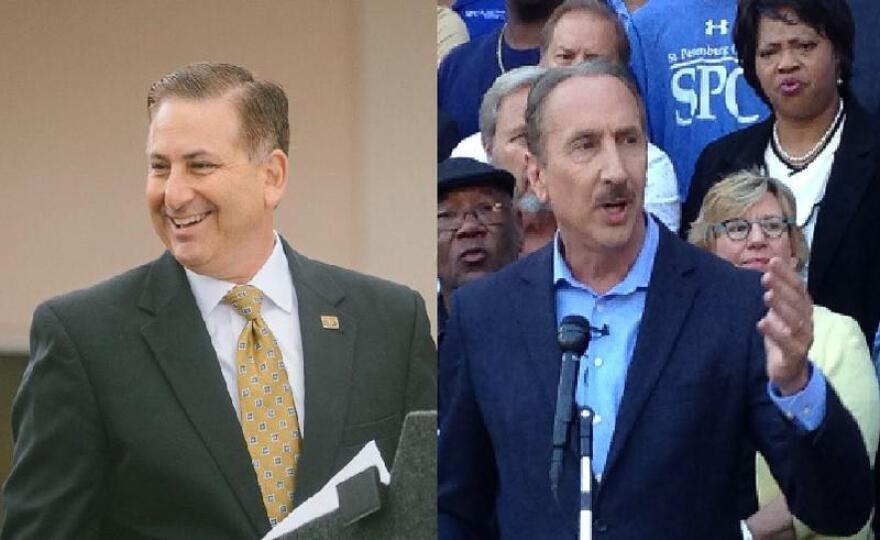 As we head into the November 7th election, records are being broken in the race for St. Petersburg mayor - and it's not only in the amount of partisan rhetoric. The race in the state's fourth-largest city has taken an outsized role in funneling outside cash.
Back in the 1980's, House Speaker Tip O'Neill had a well-known saying: "All politics is local." These days, it could be said that all local politics are national.
Case in point: the race for mayor of St. Petersburg.
National and state political groups, as well as PAC's - political action committees - have poured so much money into the race that, combined, current Mayor Rick Kriseman and former Mayor Rick Baker have raised $2.5 million - so far. That's for a job that pays around $165,000.
Just what are they trying to buy?
"The stakes are high. The parties want to get people and groom them," says University of South Florida political scientist Susan MacManus.
She says St. Petersburg has become a proxy battleground because it's a swing county in the hotly contested I-4 corridor. Pinellas voted for Trump - barely - but its large number of unaffiliated voters means Trump backers are using the city as a "testing ground" for next year's midterm elections.
"One of the reasons why they like to win local races is that it then grooms a candidate who can then move up and run for a state post or a national post,'' she said. "So they're investing in a race early on in somebody who in their minds has a bright future that can move on to higher office."
Those investments are coming from near and far.
Kriseman's Sunrise PAC has amassed more than half a million dollars, from donors from as far away as Hawaii and New York.
Seamless Florida, a Tampa-based PAC that supports Baker, has so far raised just under $1 million. That includes $50,000 from Conservative Principles for Florida, based in Coral Gables. Other donors have names like Committee for a Stronger Florida, out of Tallahassee; and Jobs for Florida, out of Dade City.
Another $25,000 came from Stephen Wynn, who created some of Las Vegas' most famous casinos, including The Mirage and Bellagio.
So why is he rolling his dice on a race 2,400 miles away?
"I'm not sure that there's any direct benefit for somebody like Steve Wynn," said Darryl Paulson, emeritus Professor of Government at USF St. Petersburg. "But what that candidate is saying in St. Pete may have some relevance in Las Vegas and another major city. You know, no man is an island. People beyond the borders of St. Pete, they're concerned about good government, and this is a way for them to participate."
Paulson says this might be happening because of the politicization of what is technically a non-partisan office. He says that's an advantage for Kriseman in heavily Democratic St. Petersburg.
"The candidates are conducting the campaign - and to some extent, particularly Kriseman, because it's to his political advantage more than Baker's," he said, "to emphasize the partisan aspect of the campaign, and to try to nationalize the issues, like climate change and these sorts of things, which normally aren't a major part of a mayor's race anywhere in the United States."
Several people showed concern about the influence of outside money during a random sampling recently at Vinoy Park.
Bob Borowicz wiped the sweat off his forehead in the midst of his midday run.
"I think too many outside companies and stuff that don't even know where St. Pete is on the map are trying to influence the election, just to get somebody that's going to further their cause," he said. "Obviously, if you're going to have a bunch of money coming in, you're going to listen more to those people and what they're looking for than some lowly person like me and what I might want you to go for in the city."
Nearby, Daymon Sadler was exercising along the park's seawall. He was born in Puerto Rico and grew up in St. Petersburg.
"This is our mayor's race. Not somebody in Iowa. This is our race here," he said. "I can't put money into politics anymore. I'm a disabled vet. In 2008, 2012, I did. And I can't do that anymore. The cost of living's gone up. So I can't. But I will write letters, I will petition, I will stand and do those type of things."
This might be the last word in big-money financing in St. Petersburg. The city council earlier this month voted to limit contributions to PAC's. They became the first city in the nation to challenge the Citizens United ruling, where the U.S. Supreme Court said corporations have the same rights as citizens to contribute to political campaigns.
But even if it survives an almost certain legal challenge, the law wouldn't take effect until after this election.