Three-Day Special Session Called In Tallahassee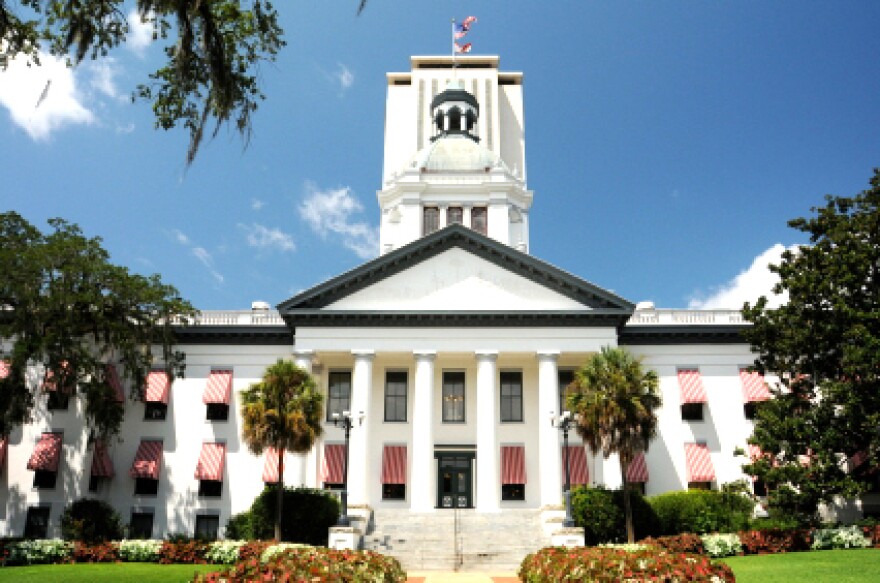 After reaching an agreement with legislative leaders to boost money for public schools and to back plans for economic-development and tourism funding, Gov. Rick Scott on Friday signed an $82 billion state budget and called lawmakers back for a three-day special session to complete the deal.
"I think this is going to be good for job creation and I think it's going to be good for education," Scott said, following a press conference at Miami International Airport with Senate President Joe Negron, R-Stuart, and House Speaker Richard Corcoran, R-Land O'Lakes.
Each leader will get something from the deal, which will be completed in a special session that begins Wednesday.
Lawmakers have agreed to create an $85 million "Florida Job Growth Grant Fund," which will provide money for infrastructure and job-training efforts. Scott had requested $85 million for business incentives that would go through the economic-development agency Enterprise Florida, but the House refused to go along with spending money on incentives.
Another concession to Scott will be $76 million in funding for the tourism-marketing agency Visit Florida. Lawmakers had cut the funding to $25 million in the budget passed last month.
Funding for public schools in the deal will go up by $215 million, enough to provide about a $100-per-student increase in the 2017-18 fiscal year, which begins July 1. The budget approved last month had only a $24.49 per-student increase.
Also as part of the agreement, Scott is expected to sign two education bills, passed in the 2017 session, that are important to Corcoran and Negron.
One (SB 374) contains most of the higher-education policy initiatives supported by Negron, including block tuition for state universities, a new oversight board for state colleges and a cap on enrollment in state college baccalaureate programs.
The other bill (HB 7069), which is backed by Corcoran, would expand the use of charter schools in Florida and provide bonuses to high-performing teachers and principals.
Scott, however, deflected questions on the House bill.
"We're still reviewing (HB) 7069 but I believe that we're on a pathway to have a very good special session," Scott said. "I am going to work to make sure that everything we do is good for all students."
To set up the special session, Scott signed the new budget (SB 2500), while vetoing $410 million in spending and projects. He said the vetoed funding was "more than sufficient" to pay for the school funding, tourism and economic development increases.
In a more extraordinary move, Scott vetoed the entire $20 billion K-12 funding program in the budget, which will require lawmakers to pass a new bill next week with the $100-per-student increase. It was a move supported by teachers, school boards and superintendents, who called the original funding increase inadequate.
It's the first time in 34 years that a governor has rejected the Florida Education Financing Program, commonly known as FEFP, since Bob Graham's veto in 1983.
Scott declined to veto another portion of the budget related to state college funding, meaning those schools may have to live with a $30 million cut in remedial education. Scott promised to seek a funding increase for the state colleges during the 2018 regular session, which begins in January.
The agreement ended a bitter feud between Scott and Corcoran, the House leader, over economic-development and tourism funding. While Corcoran criticized a $1 million promotional contract with rapper Pitbull and likened economic incentives to "corporate welfare," Scott toured the state labeling Corcoran and other House members as "job killers."
Scott downplayed those differences on Friday.
"I appreciate the fact that people fight for what they believe in," Scott said. "I think often what happens at the end of that discussion … you end up with a good product."
Negron and other Senate leaders emphasized that they had supported Scott's call for increased school funding and economic-development and tourism funding from the beginning of the 2017 session.
"It's a shame the House wouldn't negotiate during the regular session," Senate Appropriations Chairman Jack Latvala, R-Clearwater, tweeted. "Now we have to spend $60-70k a day on a special session."
Corcoran said Friday's agreement showed "you can have leaders with competing opinions and still compromise to meet common goals."
Corcoran won concessions that the Visit Florida would be held to higher accountability standards and that the new $85 million Florida Job Growth Grant Fund would not be specifically targeted at individual companies.
"It's truly a model for the rest of the nation wrestling with ending corporate welfare," Corcoran said.
Controversy will continue over the charter school legislation, which is not part of the special session but drew fresh condemnation on Friday from Democrats and some public-school advocates.
"To pretend this newest backroom deal will help public education in our state is laughable," said House Minority Leader Janet Cruz, D-Tampa.
She said the charter school legislation creates "a $140 million slush fund for private charter school operators in exchange for an $85 million slush fund for corporate welfare."
Legislative leaders said they may add medical-marijuana legislation to the special session agenda, if they can resolve differences over the number of dispensaries that would be allowed to distribute the drugs. Voters approved a medical-marijuana constitutional amendment in November.
"We still want to try to get something resolved next week," said Sen. Bill Galvano, R-Bradenton. "If we cannot, I don't know that waiting a month or two is going to make a difference."