PolitiFact Fl Vets Politicians' Immigration Claims
Build the wall? Florida U.S. Sen. Marco Rubio says it wouldn't make much of a difference. WUSF's Steve Newborn looks at that claim and another comment on immigration from Congressman Mario Diaz-Balart with Josh Gillin of PolitiFact Florida.
For all the talk about President Trump's moves to restrict the flow of illegal immigrants into the country -- and yes, build the wall -- there might be more people who simply fly into the country and overstay their visa.
U.S. Sen. Marco Rubio echoed this concern during a recent stop in the farm town of Immokalee, which relies on labor from outside the country.
"In Florida, 70 percent of the people here illegally came on an airplane," Rubio, a Florida Republican, told reporters while visiting growers in Immokalee Jan. 27. "They overstayed a visa -- the wall isn't going to address that."
Here's PolitiFact Florida's ruling on that:
In 2016, the Department of Homeland Security estimated that out of 45 million U.S. arrivals by air and sea whose tourist or business visas expired in fiscal year 2015, about 416,500 people remained in the country in 2016. However, that data only covers a small slice of the undocumented population, capturing one year of data and omitting people who arrived via land. Also, the report did not provide a breakdown by state. In 2006, the Pew Research Center estimated that as much as "45 percent of the total unauthorized migrant population entered the country with visas that allowed them to visit or reside in the U.S. for a limited amount of time." That report relied on a 1997 study from the Immigration and Naturalization Service, which concluded that in 1996, 41 percent of illegal immigrants had entered the United States legally. There have been other estimates of overstays (though they are also old): In January 2003, an INS report  said that 33 percent of the illegal immigrant population in 2000 had entered the country legally. A 2004 report from the General Accounting Office, based on 2000 data, estimated visa overstays ranged from 27 to 57 percent.   Since the U.S. government has not provided an overstay rate for the entire unauthorized population in recent years, the only way to come up with a figure is an estimate. Robert Warren, a former INS demographer whose work was a part of that 1997 INS report, said that in recent years relatively more immigrants have overstayed their visas than have "entered without inspection."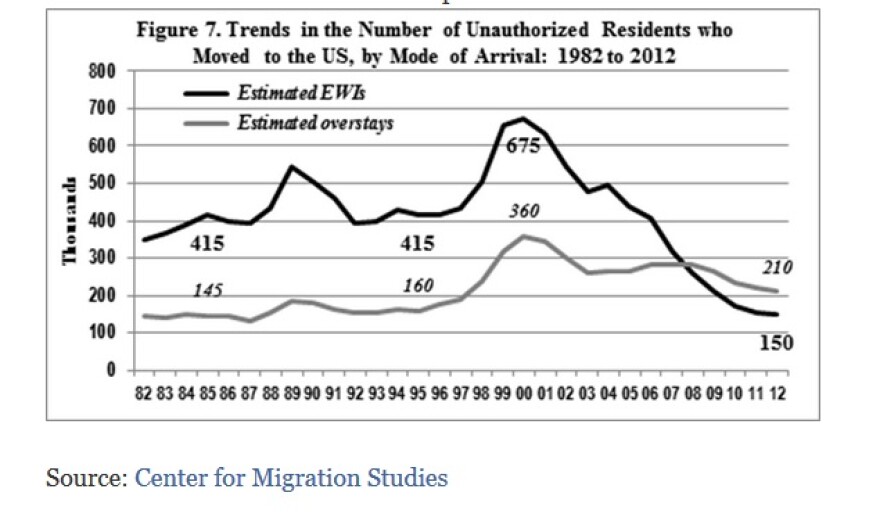 The percentage of undocumented immigrants coming from Mexico dropped significantly during the past 15 years -- and that's a key country for the group of immigrants who cross the border illegally without a visa. Warren, who is now a fellow at the nonpartisan Center for Migration Studies, did some calculations for PolitiFact Florida. Warren used the Center for Migration Studies' estimates of the undocumented population in 2014 based on data from the Census Bureau's American Community Survey. Those estimates show about 10.9 million undocumented immigrants living in the United States, including 710,000 in Florida. Then Warren examined the number of undocumented immigrants from 148 countries living in the United States and in Florida. He made some assumptions about what percent of undocumented immigrants from various countries overstayed their visa compared with those who sneaked across the border. For example, he estimated that 15 percent of undocumented Mexicans were visa overstayers,  while most arrived by crossing the border. Meanwhile, 75 percent of undocumented immigrants from the Dominican Republic were visa overstayers, he estimated. Using those assumptions, he concluded that in Florida an estimated 430,000 of 710,000 undocumented immigrants -- 61 percent -- were visa overstayers. We rate this claim Mostly True.
Speaking of immigration, Congressman Mario Diaz-Balart of Miami recently compared President Trump's move to restrict immigrants from seven nations to President Obama's ending the wet-foot-dry-foot policy for Cuban immigrants.
"I am struck by the double standard and hypocrisy of those who are offended by this executive order, but who failed to challenge President Obama when he took similar action against Cuban refugees; especially since President Obama's action was meant to appease the Castro regime and not for national security reasons," Diaz-Balart wrote in a statement to the press Jan. 30.
Here's PolitiFact Florida's ruling on that claim:
Trump's Jan. 27 order states: "I hereby suspend entry into the United States, as immigrants and nonimmigrants, of such persons for 90 days from the date of this order." Administration officials said that the order applied to people from Iraq, Syria, Iran, Sudan, Libya, Somalia and Yemen -- countries identified by the Obama administration as terrorist hotbeds. "In order to protect Americans, the United States must ensure that those admitted to this country do not bear hostile attitudes toward it and its founding principles," Trump's order stated. Trump also put processing of all refugees -- which would include Cubans -- on hold for three months and suspended the vetting of Syrian refugees indefinitely, "until such time as I have determined that sufficient changes have been made to the U.S. Refugee Admissions Program to ensure that admission of Syrian refugees is consistent with the national interest." Obama's rule change, which came through a Department of Homeland Security regulation, applied to one group of people: Cubans. Obama's Jan. 12 announcement ended the so-called "wet foot-dry foot" policy that had allowed Cubans without visas who reached U.S. shores (typically Florida) to gain automatic entry to the United States to ask for political asylum. Under the policy, those caught at sea, however, were sent back to Cuba. Obama's rule change did not cut off immigration from Cuba. A Department of Homeland Security official told the Miami Herald that an immigration lottery allowed at least 20,000 Cubans to emigrate to the United States legally each year would remain in effect. Also a program that allows legal residents in the United States to apply for Cuban relatives to join them was expected to continue. Trump's order is far more broad and temporarily suspended entry for people from seven specific countries, as well as refugees from everywhere. We rate this claim False.