PolitiFact Florida Picks Apart Ben Carson on Illegal Immigration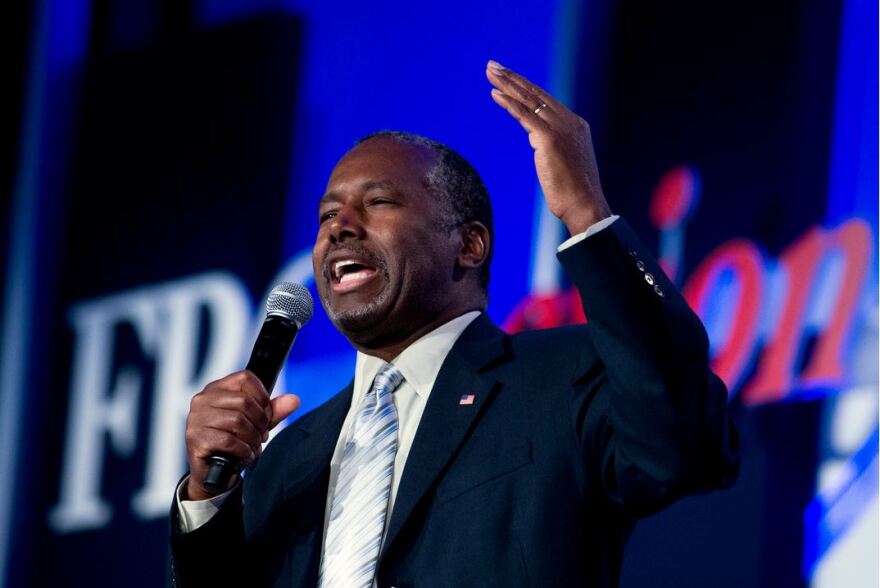 The issue of illegal immigration has taken the stage front and center in the Republican presidential debates. So WUSF checks in with the fact-checkers from PolitiFact Florida to take on one claim from presidential aspirant Ben Carson.
There's been no shortage of claims from candidates for president about what to do about the quote-unquote "problem" of illegal immigration. So it was no surprise when this comment from West Palm Beach's Ben Carson came up during the Values Voter Summit in Washington:
"When they capture people, ICE tells them to release them," Carson said. "And a lot of those people are not from Honduras and Mexico. They're from Iraq and Somalia and Russia. And many of them are hardened criminals. And it seems like our federal government is actually fighting against the sheriffs and the people who are down there."
https://www.youtube.com/watch?v=ArBJVoP-wD0
To check on that comment, here's PolitiFact Florida's ruling:
Carson campaign spokesman Doug Watts told us to call Pinal County Sheriff Paul Babeu in Arizona.
Carson met with Babeu when he visited the Arizona-Mexico border in August. Babeu blasted the federal government for releasing three criminal illegal immigrants this summer who were from Iraq, Russia and Sudan (not Somalia, as Carson said). That included Dennis Valerievitch Tsoukanov of Russia, who set a police informant on fire; Musa Salah Abdelaziz Abdalla of Sudan, who had been convicted of assault; and Nasser Hanna Hermez of Iraq, who had been convicted of negligent homicide in the death of his infant daughter. In all three cases, after they had finished any term of incarceration, they were turned over to ICE, which then later released the men. ICE spokeswoman Jennifer Elzea told PolitiFact that "ICE under current law can no longer legally hold the three individuals." Hermez is a legal permanent resident whose conviction does not make him eligible for deportation. The other two were foreign nationals who were released based on the Supreme Court decision in Zadvydas vs. Davis. That ruling prevents ICE from indefinitely holding individuals if it's unlikely that ICE can actually deport them. These two men were ordered to report regularly to an ICE officer. Tim Gaffney, director of administration for the Pinal County Sheriff's Office, told PolitiFact that law enforcement had seen an increase in a group referred to as "special interest aliens" who are from 35 countries with terrorist ties, including Iraq and Somalia. Gaffney sent PolitiFact an excerpt from a report produced by the Arizona Counter Terrorism Information Center and other agencies which stated that during the first 10 months of fiscal year 2014, Border Patrol apprehended 402 "special interest aliens" with more than half of them from Bangladesh. The three countries cited by Carson, however, were not included in the excerpt. (Gaffney said he couldn't provide the whole report because it is "law-enforcement sensitive.") We also found news articles that cited examples of illegal immigrants with ties to terrorist groups who had been caught along the border. But none of the articles we saw backed up Carson's argument that any significant number of illegal immigrants were from Iraq, Somalia and Russia. The most we could find were articles like one from February, in which the Houston Chronicle posted a report from the Texas Department of Public Safety that stated that it had come in contact with special interest aliens including from Somalia with terrorist ties. There were additional news articles about two different Somali men with terrorist ties accused of smuggling Somalis into the United States. But none of these reports suggest that there are "a lot" of people from those nations. Illegal immigrants apprehended or removed We also looked at broader data from federal officials to gauge the frequency of aliens from the countries Carson cited. The most comprehensive data comes from the Department of Homeland Security's Yearbook of Immigration Statistics. That data shows that for 2013 there were 662,483 aliens apprehended, including 169 from Iraq, 320 from Russia and 214 from Somalia. So, combined, the illegal immigrants from these countries add up to less than 1 percent of the total. The largest groups of illegal immigrants were from Mexico (424,978), Guatemala (73,208) and Honduras (64,157). We obtained more current data from the U.S. Border Patrol which showed the number of apprehensions by citizenship for 1.2 million deportable aliens between fiscal year 2013 and August 2015. Let's look at the countries cited by Carson:
Still, Carson referred to the citizenship of illegal immigrants who were released by ICE, so we went in search of that data. Illegal immigrants released According to ICE data, the agency released 36,007 criminals in 2013 and 30,558 in 2014. The most common reason for the releases was due to a court order. However, data on country of origin for illegal immigrants who were released was not immediately available from ICE. We did find some efforts to fill in the blanks. Jeremy Redmon of the Atlanta Journal-Constitution documented cases in which the person's country of origin refused to take them, which led to their release. The Journal-Constitution created a map to show 9,000 incidents of such illegal immigrants in cases between January 2012 and June 2014. He obtained the data through the federal Freedom of Information Act. The countries that had the highest numbers of those released because their country wouldn't take them were Cuba (2,348), Vietnam (779), Laos (465), Honduras (450), El Salvador (419), Mexico (346) and Guatemala (336). By contrast, 47 detainees were released from Russia, 153 from Somalia and 136 from Iraq. Of course, this is only one subset of illegal immigrants who were released; however, it is one more piece of evidence that shows certain Latin American countries have higher numbers of illegal immigrants caught here than most other nations. Jessica M. Vaughan, an expert at the Center for Immigration Studies, which advocates for low levels of immigration, said she has examined unpublished Border Patrol data on the citizenship of those apprehended and "noted that there are some individuals from Middle Eastern countries apprehended each year at the land border, although not a large number." Our ruling Carson says that when ICE releases illegal immigrants "a lot of those people are not from Honduras and Mexico. They're from Iraq and Somalia and Russia." Carson pointed to information from just one sheriff in Arizona, and even here he garbled the information -- the sheriff criticized the federal government for releasing three criminal illegal immigrants from Iraq, Russia and Sudan, not Somalia. When we looked at the broad sweep of data, we saw nothing to indicate that the three countries Carson cited account for a significant share of illegal immigrants. We rate this claim Mostly False.