Redistricting May Chop Up Eastern Hillsborough Again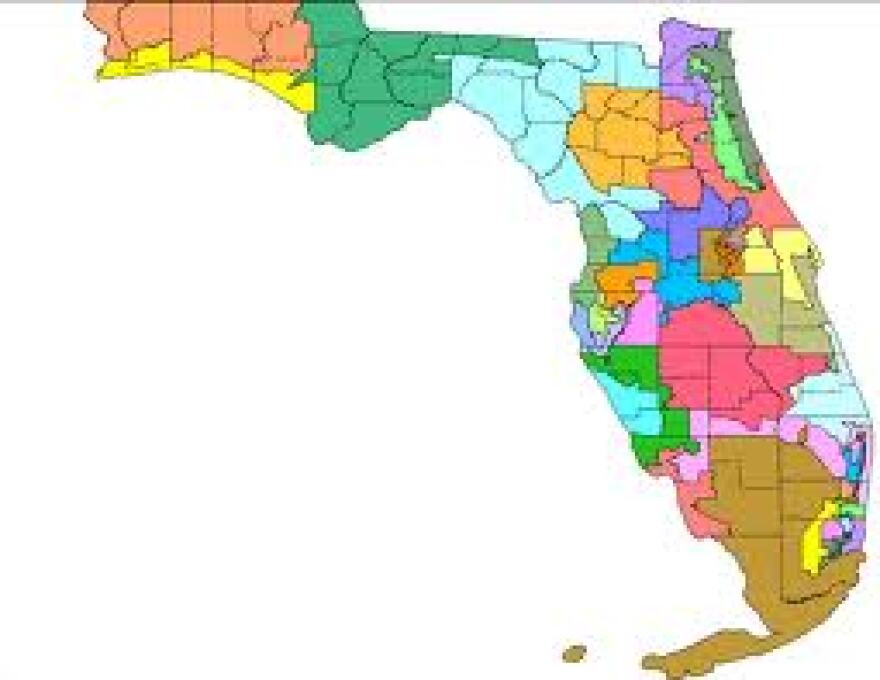 Sen. Tom Lee's gripe with a set of redrawn congressional districts working their way through the legislative process was nothing new, he said.
Once again, his home county of Hillsborough had been chopped into four districts. Only one of them was wholly contained within the county's borders. The rest of the county was distributed to seats based in Pasco and Pinellas counties, Lake and Polk counties, and Manatee and Sarasota counties.
As Lee told the Senate Reapportionment Committee on Thursday, "eastern Hillsborough County has been a donor to the convergence of a variety of congressional districts for which it has little in common for generations." And a new map ordered up by the Florida Supreme Court in a July ruling gave him the chance to raise the issue.
"I wanted to take this opportunity to try to see if there was a mechanism through which to consolidate eastern Hillsborough County population into a congressional district that would force us, somewhere else in the map, clearly, to make choices with respect to political boundaries," said Lee, a Brandon Republican and head of the Senate's budget-writing committee. "But they just wouldn't be getting made in Hillsborough, as they always seem to be getting made."
But Lee's plea for his home county also illustrates the difficulties for lawmakers as they meet in a special session that started last week to redraw congressional districts. The Supreme Court ruling found that eight of the current 27 districts violate anti-gerrymandering requirements in the state Constitution.
That spurred legislative leaders to order staff members to draw up a "base map" to comply with the Supreme Court ruling. The House and Senate are using the base map, which includes changes to districts across the state, as a starting point for passing a new plan.
Lee's attempt to amend the proposed map, however, shows the pitfalls of trying to make further changes, as was evidenced by questions from at least one Orlando-area lawmaker.
Under Lee's plan, a northwestern sliver of Hillsborough County would still be packaged with Pasco and Pinellas in Congressional District 12. But the rest of Hillsborough would be in District 14 -- similar to the one already contained completely within the county in the base map -- and District 15, which would be centered in eastern Hillsborough and also take in a piece of Polk County.
Because each district in a congressional plan has to have almost precisely the same population, making those changes would cascade through other parts of the map. As a result, a district based entirely in Orange County would end up getting pushed into Lake County -- something that didn't go unnoticed by Sen. Geraldine Thompson, an Orlando Democrat who has openly considered running in Congressional District 10.
"Under this proposal, it now would be Orange and Lake, and how would this impact the objective of compactness and honoring political and geographical boundaries?" she asked.
Thompson, an African-American, also raised questions about the impact of the changes on the racial makeup of District 10. African-Americans and Latinos comprised a slightly smaller share of the Democratic primary vote in 2010, the last year for which numbers were available, under Lee's plan than under the base map.
That means it could be harder for a coalition of minority voters to ensure that their preferred candidate is elected under Lee's proposal, though those voters still represented a bare majority of the Democratic vote in 2010.
"We're seeing how when you push in on the balloon one place, it pops out somewhere else," Lee said.
Lee and legislative staff member also pointed out that in nearby District 9, which includes Osceola and part of Polk, the minority share of the votes would actually tick up slightly.
To be sure, Thompson was not alone in questioning Lee's changes. Sen. Oscar Braynon, D-Miami Gardens, tried to play "Faircules" by pointing out that Orange and Hillsborough counties were pretty much in the same boat under the staff's proposal -- cut into four districts, with just one district completely inside the county lines.