Get the latest coverage of the 2023 Florida legislative session in Tallahassee from our coverage partners and WUSF.
State lawmakers put the governor's priorities on the fast track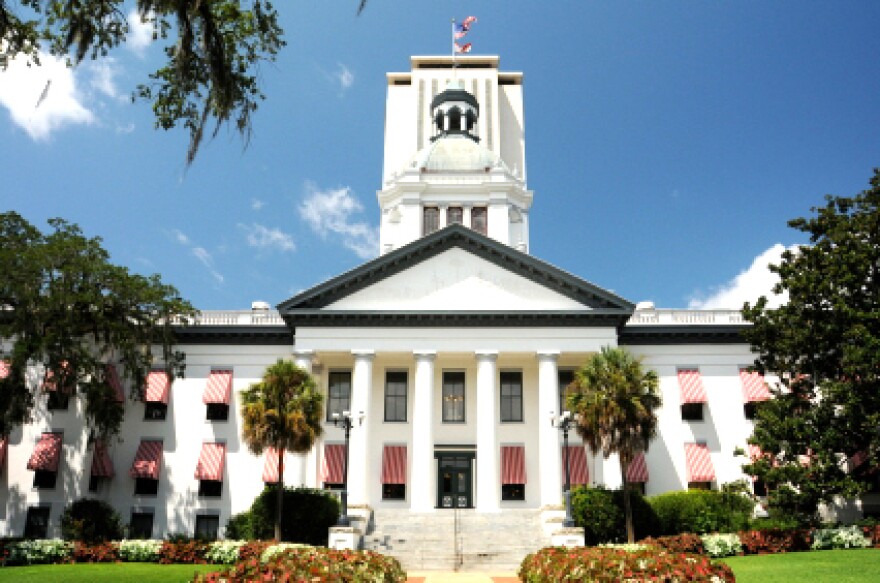 Lawmakers have finished the third week of this year's carefully scripted session, with Gov. Ron DeSantis and Republican supermajorities in the House and Senate firmly in control.
Forget about the days when lawmakers played cat-and-mouse with a governor's top priorities by holding off until the waning days of the legislative session to deliver the goods.
Way back when, House and Senate leaders would string out the most controversial or pressing issues as they engaged in horse trading and made surprise moves in the weeks leading up to the end of the 60-day annual session.
Such maneuvering appears to be a thing of the past as lawmakers have finished the third week of this year's carefully scripted session, with Gov. Ron DeSantis and Republican supermajorities in the House and Senate firmly in control.
DeSantis on Friday signed into law a far-reaching bill aimed at helping shield businesses and insurance companies from lawsuits. Supporters maintain it will rein in "billboard lawyers," and opponents contend the law, which went into effect immediately, will harm consumers.
DeSantis' signature came a day after the Senate gave final approval to the plan (HB 837), a priority of the governor and House Speaker Paul Renner, R-Palm Coast.
Business and insurance groups have long sought the lawsuit changes, contending that Florida has been plagued by excessive litigation that drives up costs. As the heavily lobbied bill moved through the House and Senate, supporters often blamed what they called "billboard lawyers."
"We have a fundamental problem in Florida when you turn on your TV or your radio, and the ad says, 'If you have been injured, call an attorney first. Do not call your insurance. Call an attorney.' That is a problem. It's not right," Senate bill sponsor Travis Hutson, R-St. Augustine, said during floor debate Thursday. "It's because current laws allow this situation to happen, and people believe they won the jackpot or the litigation lottery."
But opponents argued the bill is a gift to the insurance industry without any assurances that it will lower rates for such things as auto insurance.
"Instead of improving the lives of the average person, it will absolve bad actors of their duties and responsibilities," said Sen. Darryl Rouson, a St. Petersburg Democrat who is a plaintiffs' attorney. "After all, these large corporate entities can afford to pay their attorneys whatever they need for however long they need them. Many of our friends and neighbors and constituents back in our districts won't have such a luxury."
ZIPPING ALONG
Lawmakers also made quick work of a massive expansion of Florida's school-choice programs, sending to DeSantis a measure that would make all students eligible for taxpayer-backed vouchers.
The Senate voted along straight party lines Thursday to give final approval to the bill (HB 1), which the House passed last week. DeSantis already has pledged to sign the measure, which includes removing income-eligibility requirements that are part of current voucher programs. It has been a top priority of Renner, who was in the Senate chamber Thursday.
"We are funding students in this state. Parents have spoken," Senate sponsor Corey Simon, R-Tallahassee, said before the Senate's 26-12 vote.
Under the bill, students would be eligible to receive vouchers if they are "a resident of this state" and "eligible to enroll in kindergarten through grade 12" in a public school.
The measure includes a tiered "priority" system for students to receive vouchers. Students whose household incomes are less than 185 percent of the federal poverty level, or roughly $51,000 for a family of four, would get first priority. Next would be students whose family incomes are from 185 percent of the poverty level to 400 percent of the poverty level, which is about $111,000 for a family of four.
Outnumbered Senate Democrats slammed the measure during a floor debate, characterizing it as a potential handout for wealthy people who would seek the vouchers.
"Let's just face it, if you are a parent and you are paying for private school, why wouldn't you want to take advantage of this program? I mean, this is going to be corporate welfare for parents who are already paying for private schools," Sen. Lori Berman, D-Boca Raton, said.
RIGHT BACK AT YOU
Senators passed Renner's vouchers priority a day before the House gave the nod to Senate President Kathleen Passidomo's top-ticket item: a $711 million effort to make housing more affordable for working Floridians.
Passidomo was in the House chamber Friday as the House took up the bill, dubbed the "Live Local Act." The measure (SB 102), which now will go to DeSantis, would provide incentives for private investment in affordable housing and encourage mixed-use development in struggling commercial areas, while barring local rent controls and pre-empting local government rules on zoning, density and building heights in certain circumstances.
In a statement, Passidomo, R-Naples, said the measure aims to end "affordable housing stereotypes" in creating options needed by the workforce. She also pointed to continued population growth and the demand for housing.
"It is clear that the broad appeal of the free state of Florida has impacted our population and our housing needs," Passidomo said.
House sponsor Demi Busatta Cabrera, R-Coral Gables, said "innovative concepts" in the proposal will allow Floridians to live close to where they work.
"As our state continues to grow, we need to make sure that Floridians can live close to good jobs, schools and hospitals and other centers of their communities that fit within their household budgets, no matter their stage of life or income," Busatta Cabrera said.
The Senate unanimously passed the measure on March 8.
Among other things, the bill would create tax exemptions for developments that set aside at least 70 units for affordable housing and would speed permits and development orders for affordable-housing projects.