Tampa Bay Roads, Hotels Fill As Matthew Arrives On East Coast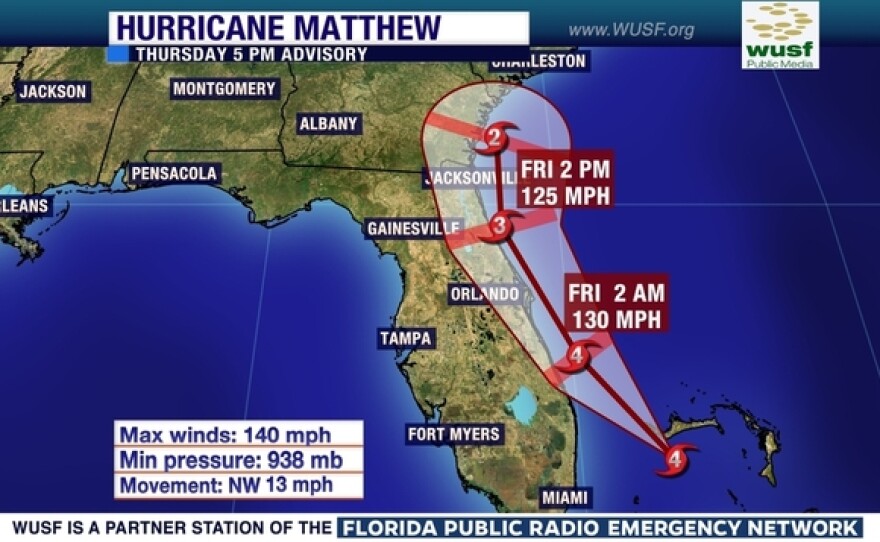 Florida Public Radio Emergency Network
Florida Public Radio Emergency Network
Leaving almost 300 dead in its wake across the Caribbean, Hurricane Matthew steamed toward Florida with potentially catastrophic winds of 130 mph Thursday, and 2 million people across the Southeast were warned to flee inland.
It was the most powerful storm to threaten the U.S. Atlantic coast in more than a decade.
"This storm's a monster," Gov. Rick Scott warned as it started lashing the state with rain and wind around nightfall. He added: "I'm going to pray for everybody's safety."
Click here for a complete list of closures in the Tampa Bay area.
As it moved north in the evening, Matthew stayed about 100 miles or more off South Florida, sparing the 4.4 million people in the Miami and Fort Lauderdale areas from its most punishing effects.
"We were lucky this time," Miami-Dade Mayor Carlos Gimenez said.
Still, power outages were reported for more than 60,000 customers late Thursday night.
As of 11 p.m. EDT, Matthew was about 125 miles southeast of Cape Canaveral, moving toward the northwest at about 13 mph, with maximum sustained winds of 130 mph. With hurricane-force winds extending outward up to 60 miles, Matthew could wreak havoc along the coast even if its center stayed offshore.
The hurricane was instead expected to come dangerously close to shore or possibly make landfall — early Friday north of West Palm Beach, which has about 1.1 million people, and then slowly push north for the next 12 hours along the Interstate 95 corridor, through Cape Canaveral and Jacksonville, according to the National Hurricane Center.
Winds overnight will increase to tropical storm force over Highlands and eastern Polk county and into portions of the Nature Coast Friday morning, according to the National Weather Service office in Ruskin.
Around Tampa Bay, there will be some gusts to tropical storm force in some rain bands, the Weather Service said, but sustained tropical storm force winds are not anticipated. Rain will be heavy at times, but the bands will be moving rather quickly with heaviest rainfall amounts closer to the center over interior counties.
Forecasters said it would then probably hug the coast of Georgia and South Carolina over the weekend before veering out to sea — perhaps even looping back toward Florida in the middle of next week as a tropical storm.
Millions of people in Florida, Georgia and South Carolina were told to evacuate their homes, and interstate highways were turned into one-way routes to speed the exodus. Florida alone accounted for about 1.5 million of those told to clear out.
"The storm has already killed people. We should expect the same impact in Florida," the governor warned.
Many boarded up their homes and businesses and left them to the mercy of the storm.
"We're not going to take any chances on this one," said Daniel Myras, who struggled to find enough plywood to protect his restaurant, the Cruisin Cafe, two blocks from the Daytona Beach boardwalk.
He added: "A lot of people here, they laugh, and say they've been through storms before and they're not worried. But I think this is the one that's going to give us a wake-up call."
Hotels along the west coast of Florida began filling on Wednesday with evacuees.
Bob Morrison with the Hillsborough County Hotel Motel Association, says that cities in south and west Florida along I-75 are reaching full capacity.
"Naples is sold out of rooms, Fort Myers is -- appears to be sold out of rooms as well and Sarasota is approaching being sold out," Morrison said.
Kevin Wiatrowski with Visit Tampa Bay says that a couple of days ago hotels in Hillsborough were at 80 percent capacity.
"As of this morning Hillsborough County hotels are basically full," Wiatrowski said. "We have little to no space left to accept people. So we are urging them to look farther north."
Both Morrison and Wiatowski said to call a hotel ahead of time to see if they have rooms available.
The hurricane picked up wind speed as it closed in, growing from a possibly devastating Category 3 storm to a potentially catastrophic Category 4. Forecasters said it could dump up to 15 inches of rain in some spots and cause a storm surge of 9 feet or more.
They said the major threat to the Southeast would not be the winds — which newer buildings can withstand — but the massive surge of seawater that could wash over coastal communities along a 500-mile stretch from South Florida to the Charleston, South Carolina, area.
President Barack Obama declared a state of emergency for Florida and South Carolina, freeing up federal money and personnel to protect lives and property.
The Fort Lauderdale airport shut down, and the Orlando airport planned to do so as well. Airlines canceled more than 3,000 flights Thursday and Friday, many of them in or out of Miami and Fort Lauderdale.
Amtrak suspended train service between Miami and New York, and cruise lines rerouted ships to avoid the storm, which in some cases will mean more days at sea.
Orlando's world-famous theme parks — Walt Disney World, Universal Studios and SeaWorld — all closed.
"I never get time off. I'm a little sad," tourist Amber Klinkel, 25, of Battle Creek, Michigan, lamented at Universal.
Patients were transferred from two Florida waterfront hospitals and a nursing home near Daytona Beach to safer locations.
Thousands of people hunkered down in schools converted to shelters, and inland hotels in places such as Charlotte, North Carolina, reported brisk business.
At the Kennedy Space Center in Cape Canaveral, NASA no longer has to worry about rolling space shuttles back from the launch pad to the hangar because of hurricanes, since the shuttle fleet is now retired. But the spaceflight company SpaceX was concerned about the storm's effect on its leased seaside pad.
As evening fell, the winds picked up along Vero Beach, midway between West Palm Beach and Cape Canaveral, stripping away palm fronds, ripping awnings and blowing sand that stung the face. Waves crashed on the beach, and rain came in short bursts.
The last Category 3 storm or higher to hit the U.S. was Wilma in October 2005. It sliced across Florida with 120 mph winds, killing five people and causing an estimated $21 billion in damage.
As people hurried to higher ground, authorities in South Carolina said a motorist died on Wednesday after being shot by deputies in a gun battle that erupted when he sped away from a checkpoint along an evacuation route.
Matthew killed at least 114 people as it roared through the Caribbean. Officials said at least 108 of those deaths were in desperately poor Haiti, where many towns were cut off by the storm and the magnitude of the disaster was just beginning to come into focus two days later.
In the Bahamas, authorities reported many downed trees and power lines but no immediate deaths.
Georgia Gov. Nathan Deal ordered an evacuation of the entire Georgia coast, covering more than a half-million people. It was the first hurricane evacuation along the Georgia coast since 1999, when the state narrowly escaped Floyd.
"We have a house that sits right here on the water and we kind of said goodbye to it thinking that, you know, the house ... might not be here when we get back," said Jennifer Banker, a resident of Georgia's dangerously exposed St. Simons Island. "You know, we pray a lot and trust God to provide."