Historic Site In Plant City Housed Black Professionals During Segregation
Plant City is best-known for its annual Strawberry Festival, but there is much more to this Hillsborough community.
For example, some may not know the city is also home to the Bing Rooming House, a National Historic Site that was once a hotel for people of color during segregation.
The story of the Bing House is just one of many about Plant City in the latest edition of WUSF's occasional series Telling Tampa Bay Stories.
WUSF teamed with University of South Florida student journalists to highlight communities in the area and the people who call them home.
Last year, Telling Tampa Bay Stories focused on Tampa's Progress Village. This year, the focus is Plant City in a special two-part series, the first of which airs on this week's Florida Matters.
In this preview, William Thomas Jr., a Plant City resident, talks about how the Bing House was transformed into a museum. Read more about his story below.
Explore the Bing House and learn more about its history in this video, produced by USF student journalist Sam Newlon. It features Janell Johnson, the grandchild of the original owners of the Bing House. She's also featured in this week's Florida Matters. She shares her experiences growing up as an African American in Plant City.
The following is a portion of William Thomas Jr.' s story, which was produced by Stephanie Colombini, Mark Schreiner and USF student journalist Sam Newlon.
"My name is William Thomas, Jr.
Originally I was born in Plant City. My father, William Thomas, Sr., served in the military, so I spent a lot of time travelling the world and then came back home after going to college.
Coming back home, I was "volun-told" to serve as president of the Improvement League of Plant City about four years ago. It's a non-profit that my father actually served as president of when he came back home [from the military]. One of the Improvement League of Plant City's signature projects is the Bing Rooming House, an African American Museum.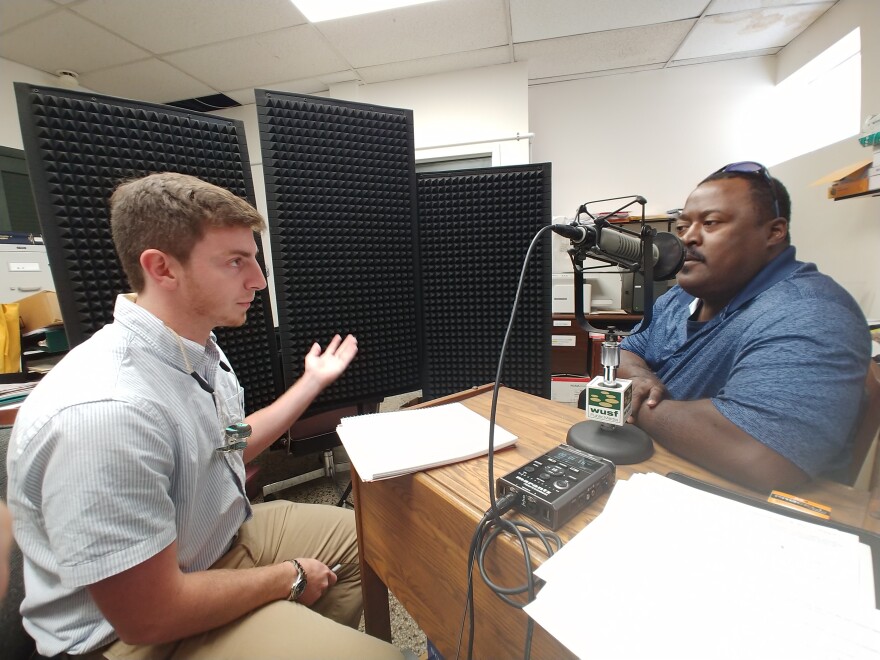 It is a two-story structure within the [Plant City] city limits that served as a hotel for blacks during the era of segregation.
It was owned by Mrs. Janie L. Bing and her husband E.L. Bing Sr. It was one of the more successful, notable businesses during that time, anchoring a black historic district in that area.
One of the grandchildren deeded the house to the organization and we took on that project to restore it into a museum.
We always try to confirm, obviously, who stayed there. Muddy Waters was an often frequent guest there, he was notable in the jazz arena, a musician. We do have those who say James Brown stayed there, there are a lot of oral history accounts of that.
Negro League baseball players were major tenants of that location. We confirmed that through Major League Baseball a number of years ago when their historians came into town and affirmed that. Satchel Paige stayed there when he was playing the Homestead Grays and travelling between the Florida circuit.
Ironically a number of school teachers [stayed there] we found out, being that it was a rooming house. During the era of segregation, transportation was limited. There was a Marshall High School in Plant City at that time. There were a number of teachers that were recruited from Tampa that would come and stay at the rooming house and teach at the school and then commute back home on the weekends.
Again, growing up in the military and coming back home – and I've been very unapologetic about this – it was a sticker shock coming back home. In the late 1990's there was still an aura of racial division.
But I've been fortunate to see that change as the leaders in the community have changed and the leaders in the city have changed.
One of the things you can tout about is the Bing Rooming House being funded by the city. [The city] invested a number of dollars into restoring that structure.
I remember when [The Improvement League of Plant City] we first took on that project and presented it to the city there was a poll that was conducted through the Plant City Courier and that poll reached out citywide. There was an 80 percent turnout that [the community] they felt the Bing House was not a good idea.
Now moving forward 16 or 17 years later, the Bing House is well-attended by people from various diversities throughout the city of Plant City. So it just goes to show you that the mentality of the culture has indeed changed.
We can attest that at least 50 percent of the [financial] support we have for the rooming house is from non-African Americans. So I think that's a good testament to show how I've personally witnessed, even in this late era, the change in how people have accepted and embraced that piece of history in an effort to make sure we all come together.