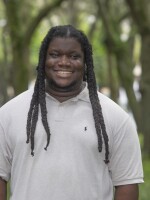 Devonta Davis
WUSF Noble Radio News Intern
Devonta Davis is the WUSF Noble Radio News Intern for the spring 2021 semester.
Originally from Gainesville, FL, Devonta moved to Tampa to attend the University of South Florida where he graduated with his bachelors in news - editorial. Now in graduate school, he's pursuing his dream of becoming a news reporter.
In his free time, you might catch him watching anime or re-watching "The Office" for the 70th time.
Florida lawmakers decided this session to eliminate a pair of programs, including a $600 stipend to Bright Futures recipients.

The law takes effect July 1. The governor's executive order enacts some provisions of the law more quickly to "bridge the gap between then and now," he said.

New variants of the virus could be contributing to the spike.

The COVID-19 pandemic took the world by surprise last year, shutting down major colleges and universities around the country. Two USF students experienced their freshman year during the pandemic.

The amount of empty office space in downtown Tampa has been a concern since the pandemic started, and uncertainty remains for the future.

Over 200 athletes are set to compete in the Special Olympics at Jesuit High School in Tampa this weekend.

For the past several years, enrollment for black freshmen at the University of South Florida has been problematic, leaving the university seeking answers.

According to a fall 2020 report, post-secondary enrollment is on the decline, down 2.5%, nearly double the decline in 2019.

People with disabilities face significant hurdles as COVID-19 protocols have made it harder for them to attend meetings of the Florida House and Senate.

A two-year-long project was finally unveiled this week in St. Petersburg honoring the victims of lynchings in the area.