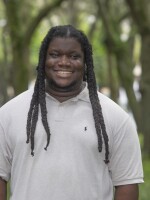 Devonta Davis
WUSF Noble Radio News Intern
Devonta Davis is the WUSF Noble Radio News Intern for the spring 2021 semester.
Originally from Gainesville, FL, Devonta moved to Tampa to attend the University of South Florida where he graduated with his bachelors in news - editorial. Now in graduate school, he's pursuing his dream of becoming a news reporter.
In his free time, you might catch him watching anime or re-watching "The Office" for the 70th time.
People with disabilities face significant hurdles as COVID-19 protocols have made it harder for them to attend meetings of the Florida House and Senate.

A two-year-long project was finally unveiled this week in St. Petersburg honoring the victims of lynchings in the area.

There are political and medical reactions coming in regarding pop-up COVID-19 vaccine distribution sites and how they were chosen.

A St. Petersburg coalition is holding Pinellas County's board of commissioners responsible for not sticking to its agreement over affordable housing.

Parents in the Sunshine State are planning a "bright future" for their children by investing in Florida Prepaid College Savings Plans.

Bar owners are hoping their customers will have fun while watching the game, and will take precautions to ensure they are complying with coronavirus guidelines.

Archaeologists are searching for potential unmarked graves on a site in Clearwater.

Local hotels and businesses get prepared for a rise in tourists as the Super Bowl comes to town.

Transit agencies for Hillsborough and Pinellas counties will split $30.8 million in federal funds designed to protect them from the pandemic.

The St. Petersburg MLK Day Parade is going virtual this year due to COVID-19.