Hip-Hop Architecture Camp Teaches Kids To Re-Imagine Their Communities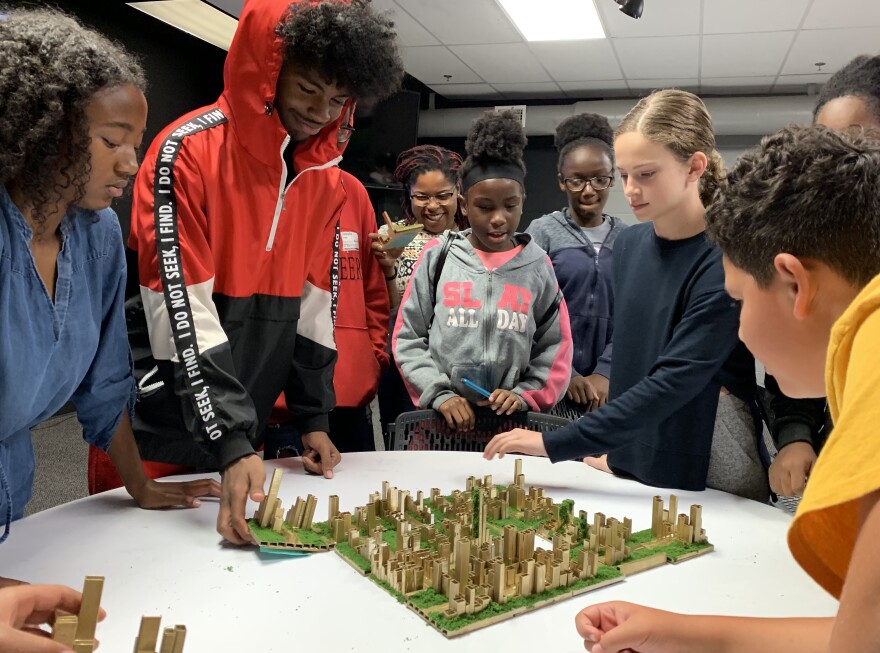 Inner city housing projects are sometimes blamed for perpetuating the cycle of poverty and crime. One African-American architect is using hip-hop music to teach children of color how to plan, design and build their own future homes and cities.
As Mike Ford described in his recent Ted Talk, Grandmaster Flash's 1982 hit "The Message" is just one example of hip-hop artists taking on the failures of urban planning in their lyrics.
I can't take the smell, can't take the noise
Got no money to move out, I guess I got no choice
Rats in the front room, roaches in the back
Junkies in the alley with a baseball bat
I tried to get away but I couldn't get far
'Cause a man with a tow truck repossessed my car
Don't push me 'cause I'm close to the edge
I'm trying not to lose my head
It's like a jungle sometimes
It makes me wonder how I keep from goin' under.
"Song after song is filled with counter points and commentary about modern architecture," said Ford.
Although 12 percent of the US population is black, only three percent of architects are. Ford believes that has to change.
When his wife became pregnant, Ford dreamed of teaching his son all about architecture. But tragedy struck. His son was stillborn. And so the Detroit-born architect decided to pour his grief and his energy into educating other kids.
"I will create an army of hip hop architects who will look to remedy the injustices faced by people of color at the hands of modernism," Ford said.
He came up with a program called hip-hop architecture camp. Now in its second year, the camp is held in cities around the country.
For one week, kids get together with architects and come up with ideas for designing and planning their own communities. The camp came to the Dream Center in Tampa's Ybor City earlier this month.
Using stacks of staples, about two dozen middle and high school students designed miniature skylines inspired by hip-hop music they love.
They painted the skyscrapers gold, and added trees. Then they put them all together and thought of what to name their neighborhoods.
"I got it, I got it! My neighborhood is Golden Heights," said one student.
"Ooh, I like that. Like Seminole Heights, but Golden Heights," said another.
For the second part of the camp, the camp director brought in beats, and kids wrote lyrics to describe both a problem in their communities, and a solution.
"In their raps that they are working on, the goal is to state the problem but what you are going to respond to is that problem in your lyrics," Camp Director LaToya Williams said.
"So we do understand it may be gun violence, it may be dilapidated buildings, your route from school, the things you are seeing. So how can you be the change agent in your community?"
Fourteen-year-old Chad Sampson attended the camp.
"Tampa is different. It's a lot of gun violence. But it's a lot of trash. People litter. So that's what the two themes were. Gun violence and trash, so that's what we had to write about."
The hook he wrote goes like this:
Welcome to Ybor
Come take a grand tour
We are the children of the streets
We're trying to do more
So put the guns down
And pick the trash up
We may be living young but we're trying to stand up
Sampson says he's rapped before, but mostly in huddles, with small groups of friends. This time he performed, with a mic, in front of a roomful of other kids. They cheered for him, and he was pleased with the reaction.
Kids wrote about themes such as being judged by the color of their skin, the problem of racial segregation, even pollution and sea level rise.
During the final day of the camp, the children made a video, featuring them rapping their own original verses at different locations in Tampa.
It all made a big impression on 11–year old Mario Ferguson.
"I want to be an architect when I grow up and design and plan," said Ferguson.
He says he has some ideas for what the world could look like.
"It could be different because we could probably have cheaper homes for the people that don't have homes. And we probably can have more housing for people. I would get people to help me fix the neighborhood, to make it better designed."
Upcoming sessions are planned this summer in Baltimore, Detroit, Charlotte and Seattle. The camp is free for the kids. Host cities pay for it with grants, or whatever funding they can gather. The Tampa program was funded by the Tampa Bay Foundation for Architecture and Design.
Williams said the camp is growing fast nationwide, and there are even plans to hold future sessions in Europe.