To Infinity And Beyond: Work Of Artist Yayoi Kusama Arrives In Tampa
A retrospective exhibit featuring one of the world's most instagrammed artists is currently breaking attendance records at museums across the country.
And now, one of her iconic works is on view at the Tampa Museum of Art.
Yayoi Kusama it seems, is having a moment. But it's hardly the 89-year old's first.
"She's been this pioneering artist right from the start," says Joanna Robotham, the museum's Curator of Modern and Contemporary Art. "Through her paintings, to her soft sculptures, her installations, and performance art, she's someone that has really paved the way for a lot of artists from across different generations."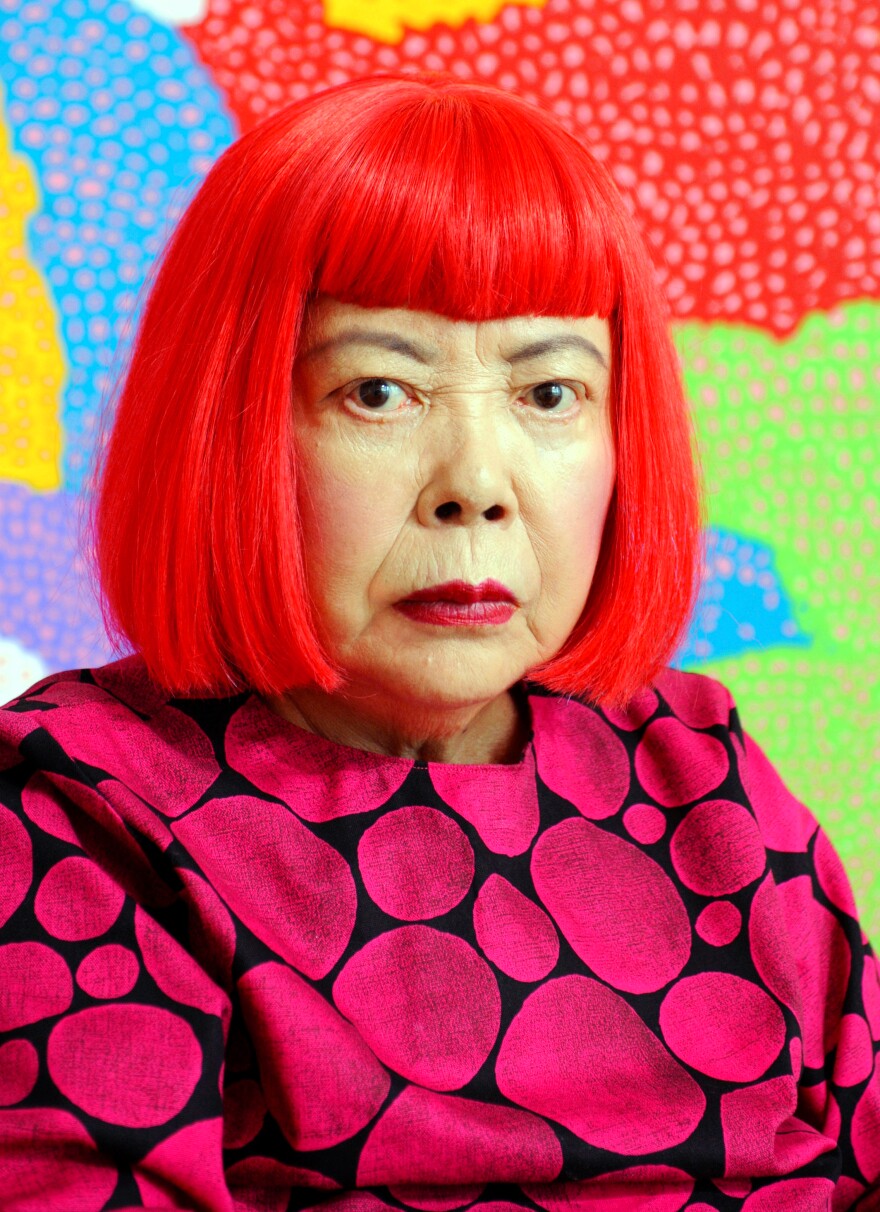 Kusama is best known for her fantastical installations known as "Infinity Rooms."
The Japanese artist's installation in Tampa is comprised of a room covered with mirrors and colorful soft sculptures coated in polka dots. Each glows with changing colors from neon pinks to vibrant yellows.
As a child, Kusama began seeing hallucinations which often involved color and fields of dots. Art, she says, became her therapy.
Kusama lived and worked in New York City for 16 years at the beginning of her career. She moved there from rural Japan with the help of artist Georgia O'Keefe, who Kusama had started a correspondence with while still in Japan.
Kusama created her first kaleidoscopic room in 1965 and has since created more than 20 installations.
The one in Tampa is titled "Love Is Calling" and is the artist's largest to date.
Robotham says it's unique because most of Kusama's installations allow just enough space for two people standing in a static position.
"This is really different because the room accommodates up to 10 people," said Robotham. "You do have the opportunity to either stand in one spot or you can walk around and see the different views from many different angles. I think that it does incorporate all of your senses."
The Kusama show is running through February 14 at the Tampa Museum of Art. The exhibit is included in regular admission but entering the room does require a timed ticket which can be purchased in advance.
The museum is also planning a variety of related events including partnering with the Tampa Theatre to show a new documentary film on Yayoi Kusama.
"Love Is Calling" is owned by Jeff and Penny Vinik. This is the third time the Tampa Bay Lightning owner and his wife have shared a major art installation. Last year, they brought the Art of the Brick LEGO exhibit to Tampa. In 2016, an installation called "The Beach" filled the Amalie Arena with over a million tiny translucent plastic balls.