70 Years Later, Showman Not Slowing Down
The Ringling Brothers and Barnum & Bailey Circus is in Tampa this week, once again kicking off its annual North American tour.
The Tampa Bay area has a rich history involving the circus and carnivals, and the people who perform under the big top. For many who once worked the side-show circuit, they've made Gibsonton their winter home, including showman Ward Hall.
When Hall told his dad that he was running away to join the circus, his dad told him that he'd be back in less than two weeks.
That was about 70 years ago.
Since then, the 85 year-old has worked as an unfunny clown, an accident prone fire eater and as a ventriloquist.
"I am not a carny. I am a showman," he said. "What I do encompasses much more than a carnival."
He's made a few unknown films and a few musicals that he says flopped. He sings. Though, Hall most vividly remembers working with the sideshow - or the freak show as it used to be called.
https://www.youtube.com/watch?v=2pst1ofGgas
He takes a book of photos off a bookshelf in his home in Gibsonton - a town best known as the winter home for sideshow performers. He's lived here for decades. The photo he looks at is from 1986.
"Here's the armless girl, the man with three legs," he says reminiscing and pointing at the black-and-white photo of 20 people lined up for a picture. "Emmett the Alligator-skinned man, and his wife Priscilla the Monkey Girl."
Hall has worked with dozens of human oddities - several dwarfs, giants, tattooed people and others - who Hall said didn't mind being called freaks.
"A freak is someone unusual, out of the ordinary. That's a freak, okay?" he said. "Am I a freak? Well, I don't think I'm a freak physically. I probably am mentally. But I like myself."
He's performed all around America. In Canada. Mexico. Pretty much anywhere a train or semi-truck could go. In the 1960s, Hall ran the sideshow that was part of the Ringling Brothers' Madison Square Garden shows.
By the end of the decade, the circus did away with the sideshows. People began to see the shows as exploitative.
But Hall said that no one forced the performers to be in the shows.
"What would've happened to those people if there were no sideshow?" he asked. "Well, they would've been on welfare or in some sort of an institution."
These days, Hall promotes his own World of Wonders variety show. There's an escape artist, a sword swallower and others. He'll take the show anywhere, but admits that demand is low.
During the offseason, Hall performs at local retirement homes.
These days, Hall carries around a cassette tape with the piano accompaniment of old jazz tunes. He'll break into song, if you ask.
Hall once sang at Carnegie Hall. He has the program framed. He also framed the review that appeared in The New York Times, which describes Hall walking onto the stage in his sequined tuxedo and top hat.
And he recalls exactly how he started that performance.
"Ladies and gentleman, we are gathered here tonight. To entertain you, our hearts' delight," he said in a vaudevillian way. "To make you smile I feel quite sure. Professor, proceed with the overture."
After reveling in the memory, a tear escaped his right eye.
"I got top billing," he said. "Why should a sideshow bum become a star at Carnegie Hall?"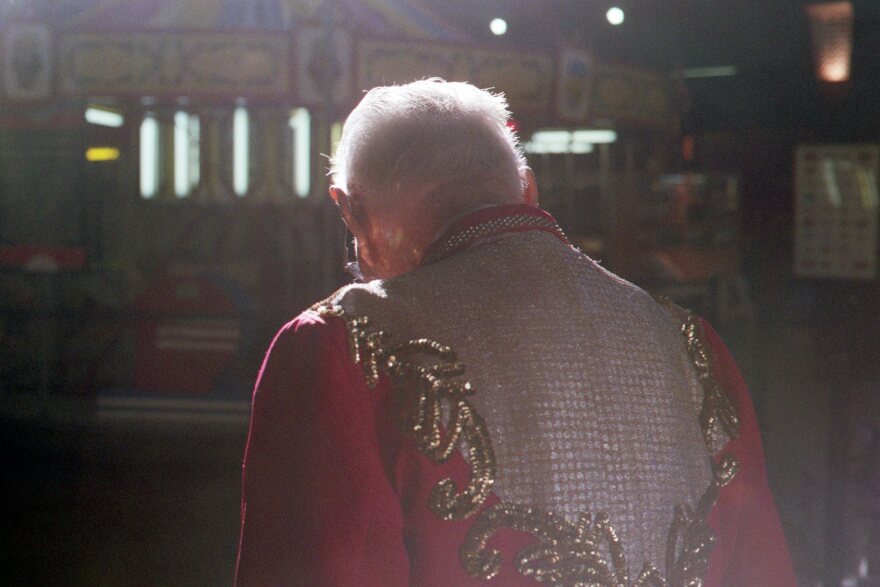 Decades later, Hall said he can't imagine a life not being a performer. It's such a part of him that he ends his days reading The Showman's Prayer, which is taped to his bedroom wall, lest he forget.
". . . when my last act is completed and the final curtain falls, take me to Yourself to be happy with you forever," he addressed to God. "Amen."
Until that final act, Hall said, the show must go on.