Florida doesn't do anything by the book -- that includes celebrating the holidays. So this season, WUSF is extolling all the ways to enjoy the holidays with a Florida twist... and we want your input.Tell us about your Florida holiday tradition. Does your family take part in a lighted boat parade, lace up for a jingle bell run or spend New Year's Eve making sand sculptures?Then there are the decorations. Show us your seashell ornaments, palm trees wrapped in lights and flamingoes in Santa hats.We want your recipes, too. Do you dress your gingerbread men in Bermuda shorts or dip your latkes in Key lime jelly?And how to do show out-of-town guests a good time in the warm weather? Do you take them caroling down the beach or spend all eight nights of Hanukkah at Disney?Get creative. Share your photos, videos, recipes, tweets, memories, short essays and anything else that would make us say, "That's so Florida!"Your submission might end up on wusfnews.org/floridaholidays... or even on the radio.Here are some ways to join the fun:Post a photo or short story on our wall at Facebook.com/WUSF.Send a tweet to @WUSF with the hashtag #floridaholidays.Leave a phone message for WUSF reporter/producer Dalia Colón at (813) 974-8636.Email Dalia at daliacolon@wusf.org.We'll collect your submissions through Dec. 21 at 5 p.m. Check this blog daily for new content, and listen WUSF 89.7 through the end of the year to hear how your fellow Floridians celebrate the season.
Florida Holidays: Five Festive Products We Found Online
Department stores are mostly full of the same old stuff, so we went trolling online for some Florida-themed (read: kitschy) holiday gift ideas. Check out these real products we found on the web.
The techie in your life may already have an iPhone 5, but we bet he or she doesn't have a kayak Christmas tree case for it. We found this one for $44.95 at zazzle.com.
Seems like every year an alligator shows up at someone's front door. At least this wreath won't bite -- although the price may hurt a little; it's $125 on Etsy. (We're not sure if it comes with the University of Florida-themed ribbons however)
The students of Academy at the Lakes could've written this book, but author/illustrator Frank Remkiewicz beat them to it. His version of The Twelve Days of Christmas in Florida ($10.36 on Amazon) includes 12 panthers purring, 11 grannies golfing, 10 flamingos flapping and so on.
This set of four ornaments ($37.99 on sportsfanfare.com) encapsulates everything Florida doesn't have right now: cold weather and hockey.
No roundup of Florida-themed holiday merch would be complete without a visit to Bealls' Florida-specific website. Click on the "holiday" tab for a gold mine of tiki bar ornaments, flamingo skirts and various incarnations of flip-flops. We had a hard time deciding which one item to feature here, but there was something delightfully cheesy about this cheeseboard and knife set ($14.99).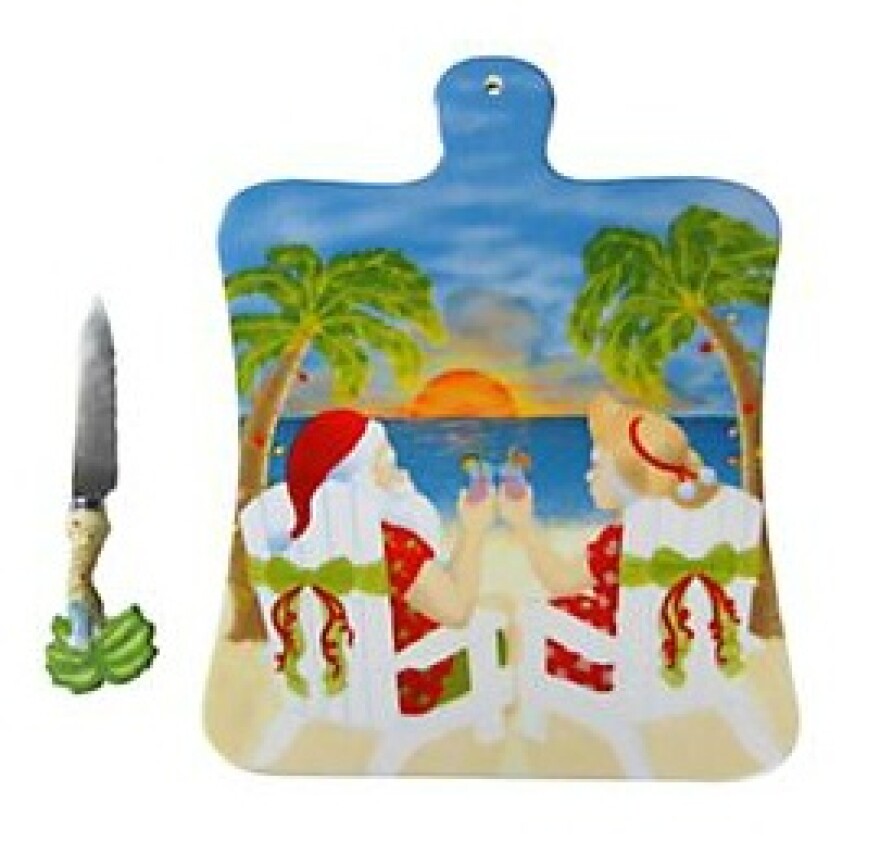 What's the most interesting Florida-themed holiday item you've ever seen? Call reporter/producer Dalia Colón at (813) 974-8636 to tell her about it as part of our Florida Holidays project.