5 Reasons Why October Was a Record-Setting Month for Hillsborough, Pinellas Transit
Weekend ridership, as well as transportation to downtown Tampa and MacDill Air Force Base, gained popularity in 2012, said HART spokeswoman Marcia Mejia.
HART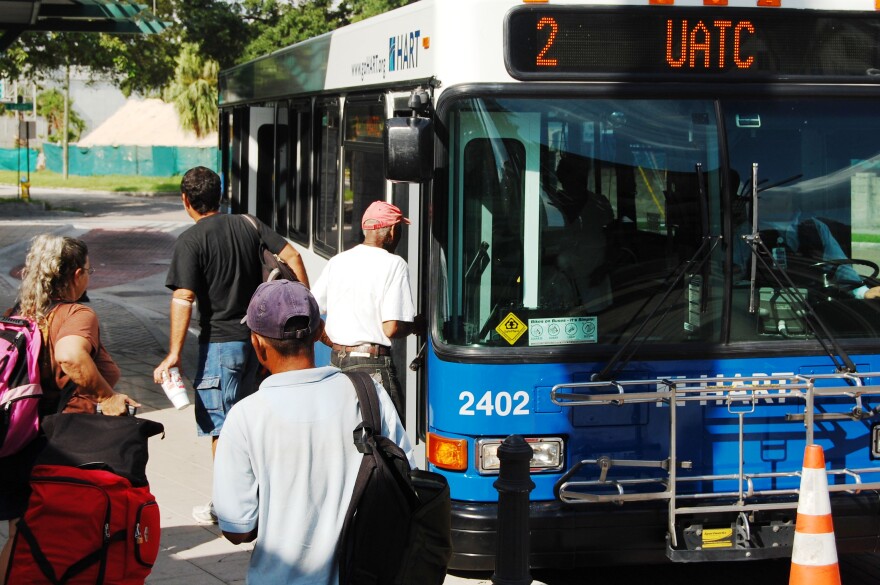 October was a record-setting month for public transit in Pinellas and Hillsborough counties, according to figures released Friday. Continuing a trend a increased annual ridership, both Hillsborough Area Regional Transit Authority and Pinellas Suncoast Transit Authority gave the highest number of monthly rides in their respective 33- and 28-year histories:
HART: 1,344,854 rides (up 11 percent from October 2011)
PSTA: 1,287,301 rides (up 14 percent from October 2011)
"Kicking off the first month of our (fiscal) year with a 14 percent increase -- it's astounding," said PSTA spokesman Bob Lasher. He and HART spokeswoman Marcia Mejia gave several reasons for the increases:
Gas prices. When gas prices spiked earlier this year, so did public transit ridership. Even after the cost of fuel dropped, many customers stuck around. "For transit agencies everywhere, the biggest obstacle is getting people to take the first ride," Lasher said. "Once they get on and they realize how easy it is (and) they know what they're doing, they keep riding." Mejia agreed. "They find it convenient, and they really like the savings," she said.
Consistent prices. On Sunday, HART fares will increase for the first time since 2008.
New schedules and routes. Both agencies update their schedules three times a year; HART's latest changes take effect this Sunday. Mejia expects HART's ridership to increase once the Bus Rapid Transit line is completed in the spring.

Tourism. Earlier this year, Pinellas County collected a record-setting $4.5 million in tourist taxes. Many of those visitors use public transportation, Lasher said.

Commuters. "At least half of all riders were commuters going and from work," Lasher said. "Everybody's hoping it's a sign of a strengthening economy, too."