PRNDI Awards Series Entry: Off the Base
Florida is home to more than 1.5 million veterans as well as 21 military installations covering all five branches of service.
Off the Base, WUSF 89.7 News' weekly radio series and blog, was established to highlight the lives and issues confronting the state's veterans, active-duty personnel and their families.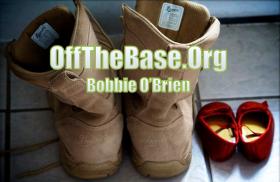 The news series tells their personal stories. It also informs veterans and military families and helps bridge the gap with the civilian and business worlds.
My submission for the PRNDI Series, Group B, award includes five full-length stories that aired in 2013 as a sample of the full year of work. The compilation of audio:
Audio File
A compilation of five Off the Base stories from 2013 for entry into the PRNDI Awards - Group B - Series category.
Edit | Remove
Should the judges choose to view the individual web posts, photographs and videos for the five entries, click on the activated link at the end of each paragraph.
June 28, 2013 – GOT YOUR SIX - Over the next five years, more than one million men and women will leave the military and re-enter civilian life. For some, that is not an easy transition. But there's a program crafted and led by student veterans to help with the adjustment. (web story)
May 10, 2013 – MILITARY MOMS - Sunday is Mother's Day -- normally a time for celebration. But it's sometimes tough to celebrate when mom is home and the kids are serving overseas in the military. So, here are some suggestions on how to support a military mom. (web story)
May 31, 3013 – CYCLING FOR STUDENT VETS - Saturday, on the streets of San Francisco, University of South Florida doctoral student and Air Force veteran Kiersten Downs will begin a journey of 3,800 miles with a push of a single pedal. The applied anthropology doctoral student is biking across America this summer to heighten awareness and to raise money for the organization Student Veterans of America. (web story)
September 27, 2013 – PTSD MYTHS - The U.S. military is downsizing. The war in Iraq is over, and combat troops are due out of Afghanistan by the end of next year. That means more than 1 million service members will be entering the civilian workforce in the coming years. So, two veterans are on a mission to help employers and the community separate fact from fiction when it comes to post-traumatic stress disorder and veterans. (web story)
September 15, 2013 – VETS CRISIS LINE - The Veterans Crisis Line was established six years ago to try and slow the flood of veteran suicides. A new HBO documentary, Crisis Hotline: Veterans Press 1, takes us past the cubicles and down the hallways at the Veterans Crisis Line Center based in Canandaigua, N.Y. (web story)